The unprecedented demand for digital in the past two years heightened consumers' standards of good brand engagement. In Southeast Asia, the latest e-Conomy report by Google, Temasek, and Bain & Company revealed that the region has added a total of 60 million digital consumers since the beginning of the pandemic, where one-third having only joined in H1 of 2021.
In the recently held webinar 'What's NEXT: Digital Marketing in the Philippines', Travis Teo, executive director and co-founder of adtech company Adzymic, shared that one of the top challenges in the aim to deliver excellent digital creatives is the lack of collaboration between creatives and media – stemming from not having creative technology in place.
In the webinar, Teo said that having a cumbersome manual creation process eventually leads to limited outputs, one that is non-personalized and difficult to optimize. All the factors that go into customer communications, such as promotions and messaging, are highly fluid which makes for an exigent task to continuously apply changes manually, pushing brands to underperform in the end.
"Every week, [there are] different offers you may be promoting and that adds into [the] creative process to turn out all these different promotions, and on top of that, there are different things like brand activations and all that different [communications]; so that kind of
create a lot of challenges in terms of streamlining the creative production," said Teo.
"At the same time, that because of like lack of time [and] resources, [brands are]
probably using a one-size-fit creative strategy which will lead to [non-personalization] and underperformance, that means your creatives are not targeting specific audiences," adds Teo.
Moving forward in 2022, it's no longer acceptable to give consumers only the bare minimum, but that brands have the capability to go above and beyond in creatives by leveraging adtech to develop creatives for programmatic advertising. 
Programmatic creatives: Its parts and different ad formats
In Travis' presentation, a programmatic creative management platform is a type of advertising technology that adds speed, scale, and automation to the creative process. This covers ad creation management, dynamic ads, and creative optimization.
Programmatic creative has two parts: one is CMP which is the creative management platform, and then the other is Dynamic Creative Optimization (DCO).
Creative Management Platforms are used to tailor, optimize, and test creatives for various campaigns. A CMP combines a variety of digital advertising tools into one cloud-based platform, and these tools include an ad creator capable of making a range of digital ad formats at scale; instant publishing via direct integrations, and marketing data collection and real-time analysis.
DCO ads, meanwhile, are dynamically assembled when they are served, based on different data signals from data sources such as external data from DSP and sites.
CMP is also ideal to both create and control DCO campaigns, enabling the production of one-to-one personalized ad experiences. Additionally, CMPs are ideally suited for omnichannel and programmatic campaigns.
The most important thing that CMP does is upgrading static banners. For example, within a banner, a brand is able to input both an image and a video, where the user can engage the content directly without leaving the brand's website. This enhances the user experience overall, at the same time, hitting two birds with one stone being both the content itself and a traffic driver. 
Through CMP-generated ads on programmatic platforms, brands can also promote product discovery with storytelling. Brands can implement a series of creatives that tell their brand story and its product features via a combination of video and product images. Furthermore, using a 3D format will help content to visually stand out to capture more engagements.
Brands can also repurpose their social creatives with social display and video. Another tool that brands can use is chatbot. Through a simple Q&A, they can measure engagement, brand lift, post-engagement conversion rather than just clicks. Through chatbot ad formats, brands can provide different options of call-to-action (CTA) – they can actually create a story through a chat sequence for users to engage and find the products consumers are looking for. After which, the chat can finally drive the user to a specific product page. 
Last but not the least, another innovative ad format for brands is a lead gen ad, which is best served on mobile as the consumer is now heavily mobile-first, expected to drive subscription and offline purchase. A typical journey would start by running a subscription mobile ad through programmatic; the user then receives promo code via SMS, where the user can redeem the promotion offline. With physical trade now reopening, O2O stands to be a top strategy for brands in the coming period.
How to get started to plan your creative strategy
Now the question is, how can one get started to leverage CMP and DCO in creating engaging ads? In the webinar, Teo presents a comprehensive and definitive four-step process which starts from conceptualization, followed by preparing the data, then the creative setup, and finally the launch and optimization.
The conceptualization stage will involve the media and creative planner and the creative technology specialist. At this step, it's important to ask questions like what are you trying to achieve?; what is the data available?; and what is the customer journey?
Moving on to preparing the data, the media planner and ad ops of the team is expected to produce activities and outputs such as audience segments, data feed, and tags setup. They can be identified by asking questions: where is the data?; what is the audience size?; and how is the data passed between platforms?
Now, the creative technology specialist and creative designer now take the helm for the creative setup stage. By probing on what type of creatives is best and what would be the tech to power the creative experience, marketers are able to choose the best creative template, the dynamic elements of the ad, the creative and content matrix, and the creative platform setup
Lastly, the launch and optimization. In this step, we identify and deliver the media buying platform setup, the tracking setup, and finally proceed with the campaign launch. Helpful questions at this stage include how do the creatives perform and what is the optimization strategy to be explored by the media and creative planner, and ad ops.
"The technology in place, with the abundance of the data available, and with the different channels of communication, it actually creates a perfect situation for us to take a step back and look at what is available to optimize your creative, to plan your creative strategy, at the same time, look at the different [enablers] [for transforming data to multichannel formats]," said Teo.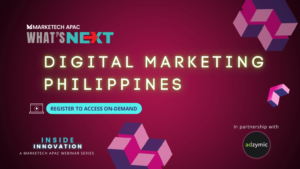 The keynote presentation was part of the webinar What's NEXT: Digital Marketing in the Philippines which was held last 2 December 2021. Register here to gain on-demand access.
———
The article is published as part of MARKETECH APAC's thought leadership series What's NEXT. This features marketing leaders sharing their marketing insights and predictions for the upcoming year. The series aims to equip marketers with actionable insights to future-ready their marketing strategies.
If you are a marketing leader and have insights that you'd like to share with regards to the upcoming trends and practices in marketing, please reach out to [email protected] for an opportunity to have your thought-leadership published on the platform.