Singapore – GIC, Singapore's sovereign wealth fund, is celebrating its 40th anniversary and has partnered with creative agency 72andSunny Singapore to retrace the pivotal moments in its four-decade history. 
An entity's history is inherently rich and even as a leading global investment firm, not a lot may be knowledgeable of how the firm came to be what is today, hence, the campaign's objective. GIC was established in 1981 to manage Singapore's foreign reserves to secure the country's financial future. 
With 'Bold' as the star message of the campaign, GIC 'subtly' tells its story through innocuous objects that open up a particular historical bit of the firm.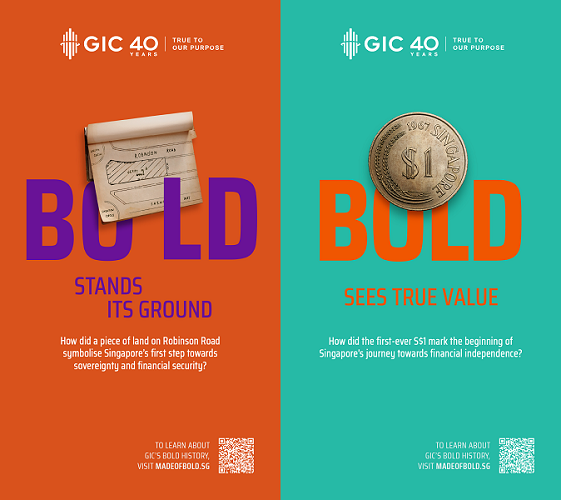 The firm complemented the 'Bold' stories with striking visuals, and for instance, in one collateral, a chair symbolizes how GIC started out from the humblest of beginning with its first managing director starting his tenure with an empty office and a borrowed chair. In another, a pen cues the pioneering vision of GIC's founding leader Dr. Goh Keng Swee in rewriting how Singapore managed its reserves. 
Audiences' interest are piqued through questions like, "How did the first-ever S$1 mark the beginning of Singapore's journey towards financial independence?" and is drawn to a microsite – madeofbold.sg – that enlights with the detailed story behind the symbol.
In addition, each story is presented with an empowering message that is representative of the firm's particular milestones such as "Bold writes its own stories" and "Bold stands its ground."
Mah Lay Choon, GIC's senior vice president of communications, said, "The role of the reserves as a rainy day fund was demonstrated so clearly during this Covid-19 pandemic. As part of GIC's commemorative year, we wanted to create awareness of the little-known, historical episodes that shaped GIC's pre-history, where Singapore's founding leaders safeguarded Singapore's reserves."
"Through these stories, more will understand how GIC came to be, born of Dr. Goh Keng Swee's bold vision, and how that spirit continues to drive GIC to secure Singapore's financial future," adds Mah Lay Choon. 
Johnny Tan, 72andSunny's executive creative director, commented, "As we explored GIC's history, we were surprised by the innovativeness, boldness and sheer conviction that made GIC what it is today. This is a story more Singaporeans deserve to know. And there's more coming up."
The integrated campaign has been launched across OOH, social and digital touchpoints like Spotify and TikTok.
72andSunny has been snaring remits from top local entities in the country such as Singapore University of Technology and Design and Buy-Now-Pay-Later brand Atome.