Manila, Philippines – Despite the ongoing pandemic, sports is still making a mainstream comeback, and now more than ever, being amplified across social media platforms such as Twitter. In the Philippines, sports still dominates the online discussions among Filipinos with basketball echoing its popularity on Twitter.
According to the latest statistics released by the platform, discussions about basketball in the Philippines generated over 6.2 million tweets, a jump of 6.90% versus 2020. In particular, most of the basketball-related Tweets were due to the excitement brought by the NBA All-Star and NBA Playoffs in 2021. The hashtag #nbaallstar was also often used, while Lebron James (@kingjames) and Stephen Curry (@stephencurry30) were some of the top players Filipinos Tweeted about in 2021.
Meanwhile, online discussion about the Tokyo 2020 Olympics also prevailed among Filipinos' sport discussion, with weightlifting athlete Hidilyn Diaz being the first ever Filipino athlete to win gold in the Olympics, and Filipino skater Margielyn Didal who captured people's hearts with her cheerful nature on and off the skating rink.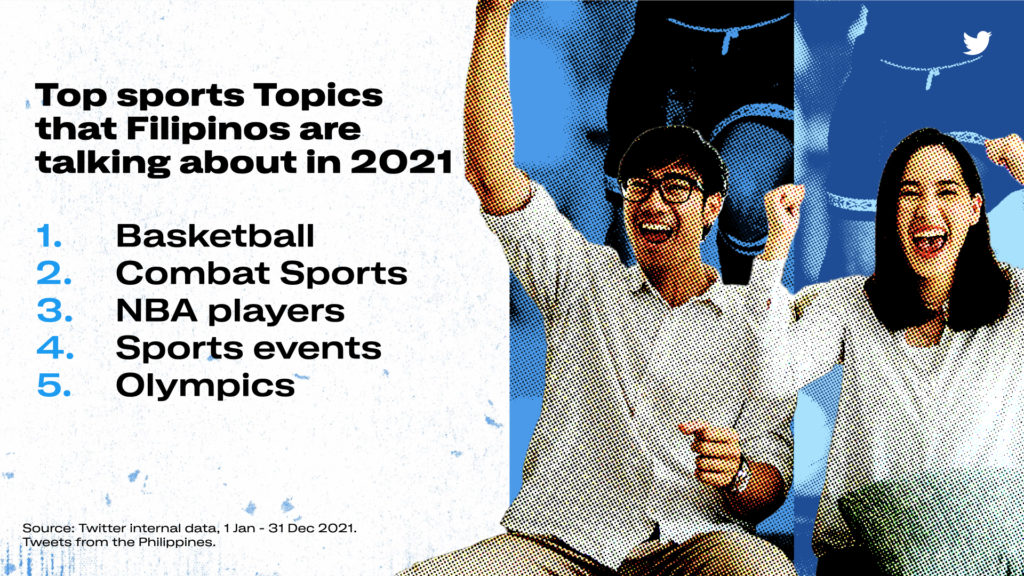 There has been a notable uptick in discussion as well in the realm of esports, when Blacklist International, the esports team under Tier One, emerged as champions in the M3 World Grand Finals last December 2021. Other esports discussions include #GenshinImpact being the most-tweeted about hashtag in gaming, while interactive games such as Valorant and Mobile Legends were on the rise as well in 2021.
For Maurizio Barbieri, head of sports and gaming partnerships for SEA and Greater China at Twitter, Twitter and sports will always have a special and tight relationship, adding that as events faced postponements and cancellations last year, sport fans on Twitter kept the passion and fervour alive by cheering, encouraging, and celebrating the wins together wherever they were.
"As competitions resumed this year, the built-up anticipation resulted in a global frenzy that transcended borders, with Twitter connecting the like-minded community to give them front row seats to all the action and a valuable avenue to participate in the excitement," Barbieri said.