Sydney, Australia – One of the oldest state newspaper publications in Australia, The Sydney Morning Herald (SMH), as well as another state news outlet owned by media company Nine, The Age, has launched a new brand platform – 'Minds Wide Open'.
The new major brand and subscriber campaign comes after a year of record subscriber uptake in 2020 for both the news publications as the unpredictability of the COVID-19 pandemic sparked greater interest and dependence on news and information. 
The campaign is focused on the mastheads' brand purpose – to foster independent thinking and open understanding, hence the platform 'Minds Wide Open'.
The ad, which was developed with advertising agency BMF, is presented as an 'open letter' to close-minded individuals. It starts with 'Dear close minds', and then goes on listing out the different forms of oppression and injustice that a close mind ought to contribute to its development, such as sexism, racism, and polarization, and then 'warning' such individuals the consequences of having a biased judgment.
SMH and The Age are both owned by media company Nine, with the latter reporting on the latest news in Melbourne, Victoria. Both were first established in the 1800s and are still serving as their original broadsheet format and are also currently managing each of their own digital platforms. The campaign by BMF was made to highlight the role both mastheads play in sparking public debate and discussion in Australia and features their award-winning photojournalism. The brand platform seeks to champion the benefits for Australians of tuning into different perspectives and having access to balanced news in a category of bias.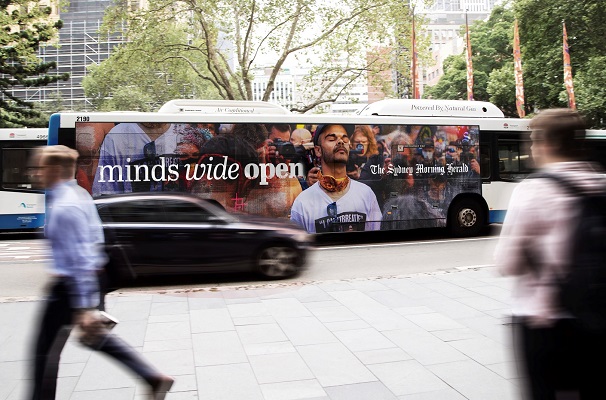 The ad was directed by Patrick Clair, winner of two Emmy Awards for Outstanding Main Title Design for his work on 'True Detective' and 'The Man in the High Castle'. Kristen Turner, Nine's head of consumer subscriptions, said the campaign draws on extensive customer insights and speaks to the incredible journalism they produce and the unique role SMH and The Age play within the political and social discourse
"2020 was a year of significant growth for our brands. In 2021, we need to assert our role in provoking the conversations Australia needs to progress, beyond the relentless news cycle. Both to create and retain tomorrow's subscribers," said Turner.
Christina Aventi, BMF's chief strategy officer, commented, "As Aussies, we value being open as a culture, but our ability to understand differences has been fading due to filter bubbles and echo chambers. The Herald and The Age offer balance over bias, reporting from the center, not a side to inspire debate over division."
David Roberts, BMF's creative director, also said, "Every day, Sydney Morning Herald and Age journos pry open the truth and are unflinching in the face of threats. We hope this campaign does justice to their grit and resolve." 
The campaign will run across television, BVOD, cinema, and digital, as well as social, outdoor, and print.