Manila, Philippines – YouTube retains its leadership among Filipino viewers, where in the country, the watch base now stands at 45 million viewers. With this, local brands are in a better position to tap the platform in attaining desired business and brand results. 
In their latest 'YouTube Brandcast' press event, the platform noted that there has been more than 25% rise in watchtime from April 2020 to April 2021, while total hours of content uploaded to YouTube by channels in the Philippines grew more than four times between 2020 and 2019.
There has been a huge influx of new creators on the platform as well, with over 3,000 local channels hitting more than 100,000 subscribers, over 250 channels having more than one million subscribers, and 12 channels having more than 10 million subscribers, as of June 2021.
"In the second year of the pandemic, more Filipinos turned to YouTube to use content that can help them with their everyday life. YouTube's reach, creators, content uploads, and watchtime increased phenomenally and this ecosystem growth unlocked great possibilities for brands to drive results at scale, and deliver a fulfilling experience for viewers," said Gabby Roxas, marketing head at Google Philippines.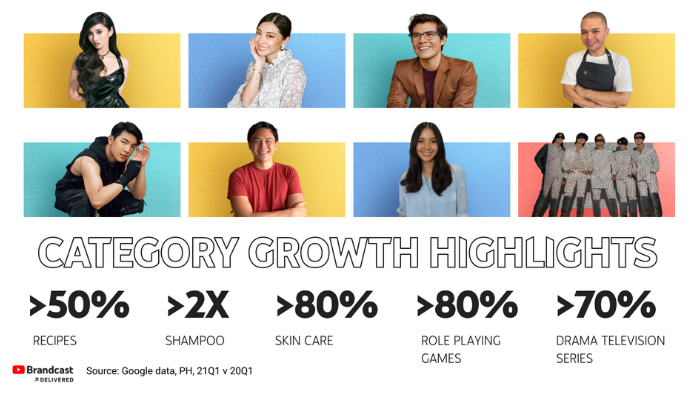 In terms of the genres or categories most watched on the platform locally, recipe videos grew by more than 50% in watchtime during the first quarter of 2021 compared to the same time last year. Skincare video watch time had also jumped by more than 80% in the same period and interestingly, that for shampoo videos more than doubled.
Furthermore, in continuing to seek entertainment to cope with the prolonged isolation periods, watchtime for role-playing game (RPG) videos grew by more than 80% while that for drama television series grew by more than 70% in the same period.
With these genres rising to popularity, brands locally can tap into these categories through their respective content creators to create meaningful brand-infused content, such as the platform's sponsorable activities like Super Stream, Music Night, and FanFest among others allow brands like Unilever to engage consumers effectively.
"Marketing in a connected world opens new opportunities for brands to connect deeper with people, and YouTube is an effective platform to do that. Through YouTube, we were able to tell our brand stories in an unmissable way, standing up in the frontline of culture to engage today's attention-restricted audience," said Dennis Perez, media director at Unilever Philippines.
The platform's success on brand integrated campaigns has been evident when they launched their first-ever YouTube Works locally, where they recognized the brands that have created campaigns that take the support from the platform's diverse audience and capabilities.
"YouTube empowers brands to push the boundaries of creative storytelling that delivers results and I've seen this with the finalists of the inaugural YouTube Works awards. They used YouTube and its content creators in a powerful way, resulting in key achievements in awareness, engagement and action. I'm excited to see what brands and agencies will come up with and submit in the next run of YouTube Works," said Leigh Reyes, jury head at YouTube Works and chair 3meritus and product officer at MullenLowe TREYNA.