When I look back to the time someone in my family had to do grocery runs to the neighborhood store and then at the present, where what we need is available at the click of a button, it often seems surreal. In the world of today, there is so much more convenience – convenience that we did not even know could exist all those years ago.
As we approach the end of the year, holiday shopping and many mega-sales are beckoning. Although festivities are expected to be carried out in a measured way due to mobility restrictions and social distancing, consumers continue to shop online. Within Southeast Asia alone, 70% of the population is now online. According to the latest report by Google, Temasek, and Bain & Company, the region gained 40 million new users in 2020 alone, as compared to the 100 million that cumulatively came online in the past 5 years.
Mobile has embedded itself in our lifestyles
The COVID-19 pandemic has spurred the adoption of digital ways to stay connected with family and friends. Mobile has been playing an instrumental role in helping people stay connected as they navigate this new normal. It has also been like a shot in the arm for mobile commerce.
Shopping over the mobile has already become a part of our lifestyle and will soon become so, in many other households. According to a recent study, purchases made over the mobile phone rose 30% from January to May 2021, with the Asia-Pacific region driving a majority of the global growth.
In Singapore, a study by InMobi found that 63% of all online retail sales are being conducted on mobile, while 34% of shoppers are expecting to spend more than SGD 500 this holiday season. This is despite a majority of respondents having not finalized their holiday shopping plans this year due to the uncertainty of how COVID measures will change.
New digital habits and why there is no going back
The new digital habits learned during the pandemic have been fully integrated into people's daily routine, where the latest e-Conomy report by Google found that more than 9 in 10 still are still using at least one digital service adopted in 2020. A whopping 94% of these new users have expressed that they will be continuing with these digital habits post pandemic.
The improvements in productivity and efficiency brought about by the increased adoption of mobile services is benefitting both consumers and brands. Mobile technologies and services generated over $750b of economic value added in Asia Pacific over the past year. This figure has been forecasted to increase by another $110b by 2025 to $860b.
Asia being slower on relaxing COVID control measures have caused consumers in the region to still be wary while following social distancing and lockdowns measures. Shoppers continue to be resilient this holiday season as they leverage on online channels to skip the crowds and hunt for bargains. Many consumers in the region are purchasing through mobiles across a wide category of items with clothing and accessories being high on the list of many in the SEA countries. The region has experienced a 240% increase in spending according to an AppsFlyer report on the State of eCommerce App Marketing in 2021.
A personalized experience versus a kitchen sink approach
The evolved shopper has new expectations and is seeking richer experiences from existing brands. Brands that are able to adapt to this change and create bespoke experiences for their customers will thrive. For example, Lazada targeting customers who are moms with diaper and baby merchandise deals makes them feel that the brand understands their needs and wants.
With personalization in the forefront of the current retail experience, and smartphones accounting for 70% of total digital media time, mobile is an ideal way to reach audiences at scale and directly at this point in time. Brands must look to adopt a mobile centric advertising strategy, and avenues such as in-app advertising within apps with engaged users. In-app ads are scaled to fit the app, and therefore look much more appealing to the user than mobile web.
Moreover, by improving user experience, retail brands in SEA have a huge opportunity to turn newly acquired users from the pandemic into long-term customers.
For mobile commerce to continue to grow, it takes an understanding of data, design, and how people behave. Not all retailers understand that, and if they do they are presenting personalized screens or personalized shopping journeys that are keeping consumers engaged.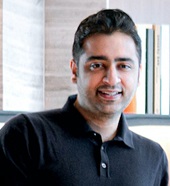 This article is written by Karam Malhotra, partner and global VP at global internet technology company, SHAREit Group
The article is published as part of MARKETECH APAC's thought leadership series What's NEXT. This features marketing leaders sharing their marketing insights and predictions for the upcoming year. The series aims to equip marketers with actionable insights to future-ready their marketing strategies.
If you are a marketing leader and have insights that you'd like to share with regards to the upcoming trends and practices in marketing, please reach out to [email protected] for an opportunity to have your thought-leadership published on the platform.