Sydney, Australia – Amid the pandemic, the Australian digital advertising market has dismissed any pandemic advertising woes to record a 24.2% growth, which is the strongest since 2016, reaching US$11.4b online advertising expenditure for the 2021 financial year, new findings by the association for online advertising, IAB Australia.
According to the association's 'Online Advertising Expenditure Report' (OAER), which is prepared by PwC, the data confirms that while the overall advertising market has rebounded, digital advertising is leading the charge and now dominates expenditure. During the 12 months ending 30 June 2021, all sectors of online advertising experienced double-digit growth.
Meanwhile, video advertising also jumped 38.8% year on year to reach US$2.4bn, while the general display grew 29.7% to US$4.4b. For the period, the search and directories grew 22.3% to US$5.1b, with classifieds also seeing an upward trajectory with 17.4% growth to US$1.9b.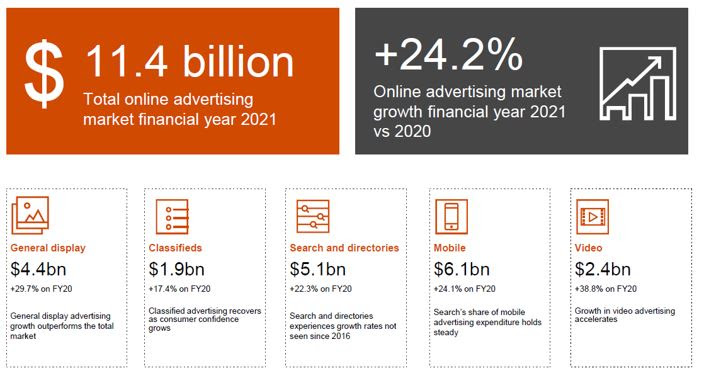 Moreover, the same report revealed that for the financial year 2021, retail was the top advertising category with 16% of all display advertising, up from 11.4% share in the financial year 2020, with expenditure coming from both traditional and e-commerce retailers. Across other categories, FMCG and technology expenditure increased their share for the period to 7.2% and 6.4% respectively while finance share remained flat. On the other hand, both automotive and travel advertising expenditure decreased year on year.
Gai Le Roy, the CEO of IAB Australia, commented that the growth in digital ad investment over the last year has been extraordinary and it's clear that marketers are confident using it as a key growth engine for their businesses across the broad range of available formats and environments.
"While the evolution of retailing has become a major driver of investment in digital advertising and we expect some shopping will return to physical stores in the future, the broad reach, deep engagement, and data-rich offerings will ensure retailers continue to place digital at the heart of their advertising and marketing plans," said Le Roy.
The study also noted that the changing media consumption patterns, accelerated by COVID lockdowns, have resulted in strong growth for connected TV spend, increasing the share of all video spend from 38% to 47% year-on-year. While the desktop share decreased from 36% to 32% and mobile from 26% to 21% for the financial year 2021.
In addition, the programmatic trading has continued to hold strong with slight growth from 41% to 43% share of expenditure for the financial year 2021, against 41% of inventory purchased via agency and 16% direct.