Shanghai, China – Global footwear brand Crocs in China has launched an interactive and playful, physical installation at Taikoo Hui Shanghai, in order to promote the 'Crocs for Yang Mi' collection, with global brand ambassador Yang Mi, tapping into the Chinese actress' enormous fanbase. 
According to Crocs, the creative idea was inspired by Yang Mi's personal style that a person is neither sweet nor only cool, encouraging fans to discover and show the multi-side charm of the campaign message, 'Come as you are'.
Created in collaboration with digital production company MediaMonks, the campaign execution will be via an experiential installation at Taikoo Hui mall, where photo booths were set up to capture its campaign theme 'The Yang Mi Sweet and Cool Style'. 
With three selfie booths that uniquely depict each of the Mi-styles and maintain the key visual aesthetic, the campaign seeks to stay close to Yang Mi's fans and the Gen Z female consumers, who are split into style-shoppers and true-love fans.
Fans could personalize the photo moment with three shareable booths furnished with interactive photo, sound, and lighting booths. The control panels in front of the booths opt for the visitors to experiment with the set in order to find their own sweet and cool style.
Furthermore, various Jibbitz charms will be used to personalize the photo moments by putting them on the interactive board. This will activate a real-time personalized soundscape with a fitting lighting setup, echoing Yang Mi's sweet and cool styles.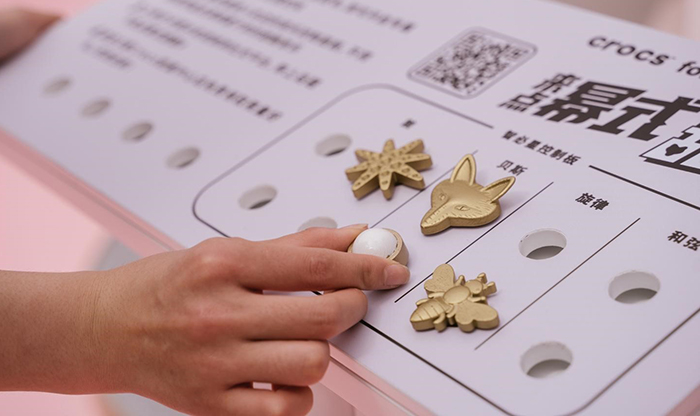 Each booth will also have its own soundboard to reflect its interior design. With 10 sound layers on the soundboard and a maximum of 4 Jibbitz charms to move around, there are over 1000 different possible combinations that can be made by users. For each installation, a personal sound or phrase that represents the mood will be created, which urges consumers to record and share on their social media platforms with an incentive that can be redeemed in the Crocs Energy Store in the Taikoo Hui mall.
Currently, over 8,000 people have engaged with the activation, generating 1.79 million impressions with 32% of the installation visitors converting to store visitors.