May Chin, the Head of Product – Growth, Experimentation and Analytics at ZALORA Group, has been named one of the winners of 'Empowered Women in Platforms'. The recognition initiative, Empowered Women Awards 2023, is MARKETECH APAC's inaugural effort in recognising outstanding female leaders in the industry.
Chin has been recently promoted to her new role in April this year after serving as a principal product manager for the company for over three years since February 2021. Prior to her Zalora stint, she served various marketing teams in companies such as Shoppr, Mindvalley, Lazada, iPrice, amongst others.
Pivoting company direction towards a culture of experimentation
With a wide array of experience across various startup companies in Southeast Asia, Chin's expertise lies in product development from early-beta stages all the way to maturity. She brings with her a proven track record of strategically driving multimillion-user consumer products, apps, and platforms across the region.
Over at Zalora, she helms new product growth and experimentation, successfully building a new business unit from scratch in two years.
Some of those accomplishments include a yearly revenue uplift of SG$100 million that is directly attributed to various experiments. Moreover, her experimental cadence has ultimately overhauled the company's approach to measuring success with impact measurement techniques and acting as AB testing evangelists, and successfully leading large-scale experimentation.
In terms of her leadership, she has been pivotal in setting the climate of innovation in the company by establishing a culture of experimentation that not only enhances creativity but increases revenue contribution and conversion rates.
In short, this reputation as de facto lead of company-wide experiment democratisation steadily cultivates a culture of female leadership and excellence.
In angling Zalora as a globally-recognised brand through her leadership
In addition to her various business successes over at Zalora, May not only consistently achieved quarterly recurring revenue of over SG$715k through her experimental framework but also further positions the company on a global stage.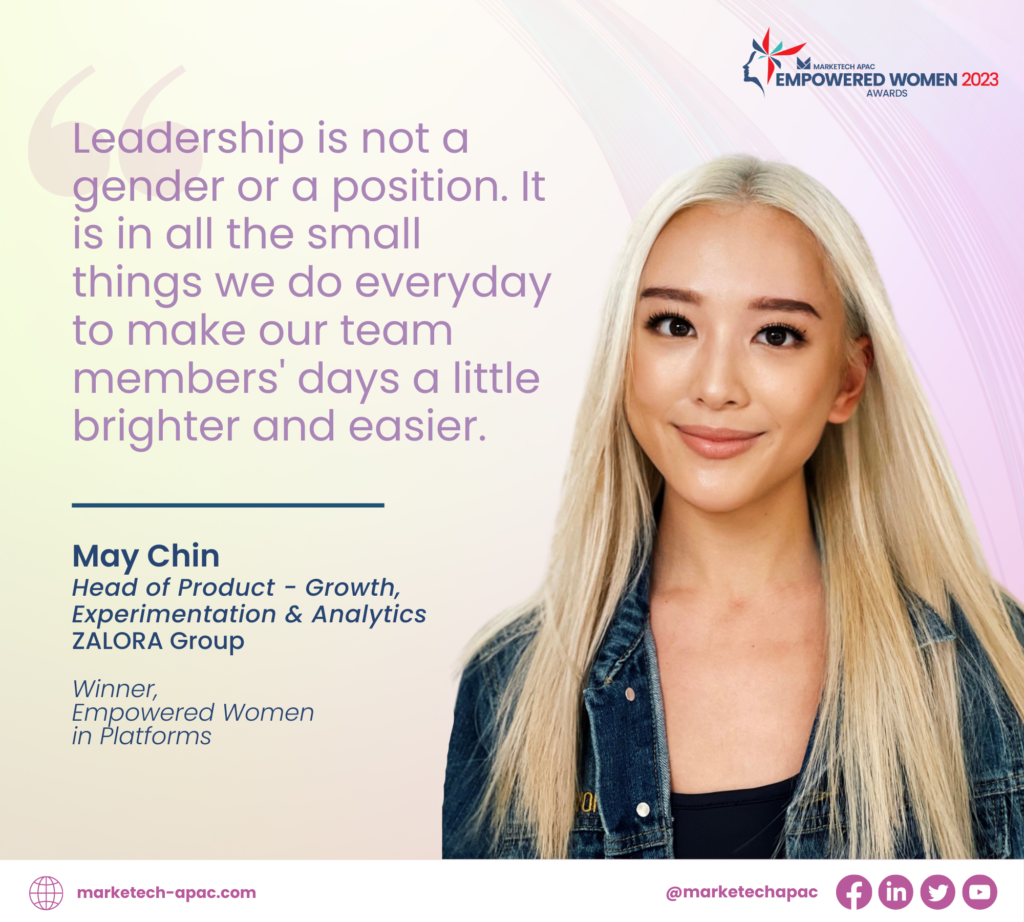 Under her leadership, May's achievements with the team have been recognised at the prestigious International Experimentation Elite Awards 2022; and was the sole Asian-based company to win an award at the ceremony held in London.
Using her various experiences at previous companies, May has become well-versed in bringing new products to fruition and optimising them towards innovative success metrics, as well as the formation of a new growth business unit that oversees all experimentation and analytics initiatives.
How to balance industry advocacy amidst corporate duties
Outside of the product experimentation space, May is an advocate of active mentorship where she consults up-and-coming product managers on how to shift into a tech career. She has shared that her mentees have all received successful tech job offers.
In addition, she is an established mentor for the Girls in Tech Reverse mentoring program, held in collaboration with Nanyang Technological University. With a sharpened focus on empowering women in tech, the mentorship program pairs female students with seasoned mentors and coaches.
As part of this dynamic program, May was partnered with an ambitious student and counselled her on refining an early start-up idea and propelling tech-enabled solutions to tackle UN sustainable development goals, with a spotlight on quality education.
Aside from Chin, check out who else made it to Empowered Women Awards 2023 Winners' list.