Seoul, South Korea – As more and more K-pop groups are debuting in South Korea, social media has proved to be a driving force for these groups to be widely known by the general populace. This in turn gives the opportunity for these K-pop groups to be noticed by non-Korean fans globally, and hopefully build a global fanbase.
Such is the case for Twitter, which recently released findings of the platform usage by various K-pop groups, ranging from the so-called 'Second-Generation' groups such as Super Junior to Girls' Generation to 'Fourth-Generation' groups such as ENHYPEN, ITZY, and Stray Kids.
The 'Second-Generation' groups were the first to build an online fanbase, including circles in Twitter, which is fueled by their strategic entry into other Asian markets and exploring global opportunities since 2009. Meanwhile, the 'Third-Generation' groups, which include BTS, BLACKPINK, TWICE, and Red Velvet expanded their global fan base through open platforms like YouTube, which gave birth to the globalization of the genre. Lastly, the 'Fourth-Generation' group are born from the proactive discussion of other K-pop groups globally before their official debut, fueled by online events as an alternative due to COVID-19 restrictions.
According to the data collected, K-pop stars averaged 1.2 tweets per day by second-generation stars, 3.5 tweets per day by third-generation stars, and seven tweets per day by fourth-generation stars. Fourth-generation stars also tweeted 5.8 times more than second-generation stars, and two times more than third-generation stars.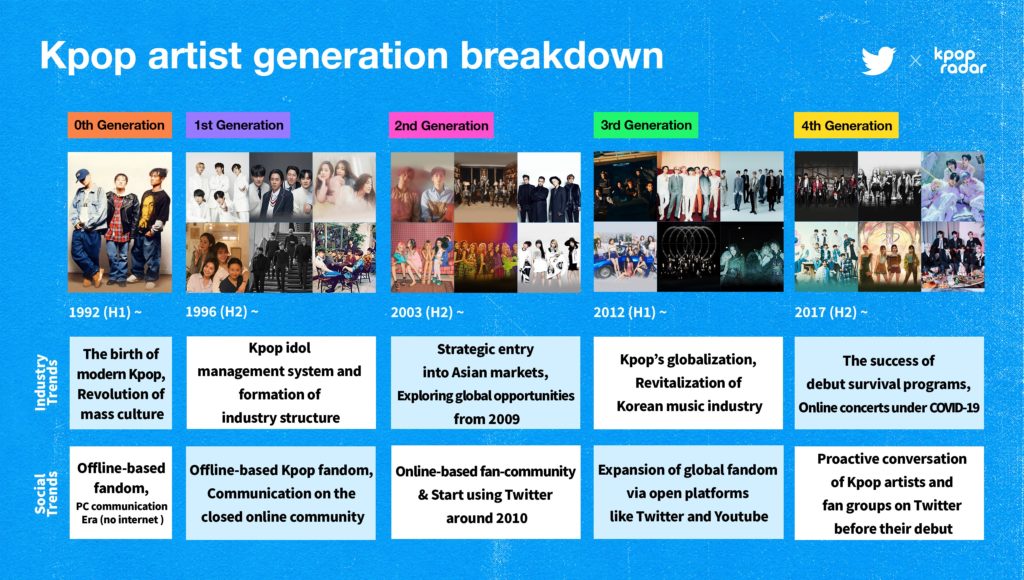 In terms of tweeting after the debut of their respective groups, second-generation stars tweeted for the first time 1,154 days after their debut, third-generation artists tweeted for the first time 132 days after their debut, and fourth-generation artists tweeted for the first time 116 days before their debut.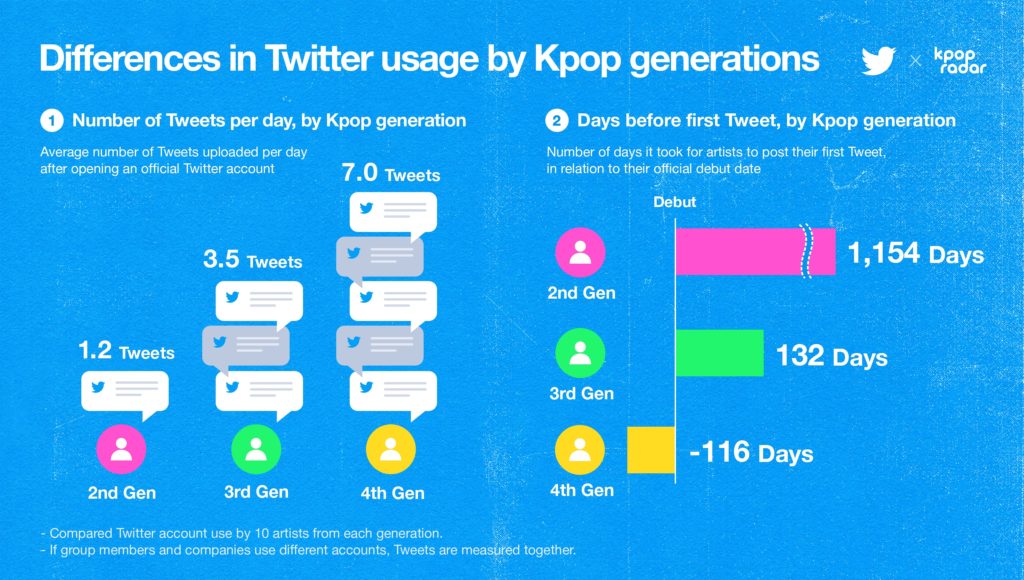 Analyzing the amount of tweets for a year following artists' debuts reveals other differences between the generations as well. Most second and third-generation artists did not post tweets before their debut, and slowly increased their amount of tweets after their debut. However, a notable exception is BTS: BTS opened its Twitter account in December 2012, six months ahead of its debut, and actively communicated with fans globally. Currently, BTS has 36 million followers on Twitter.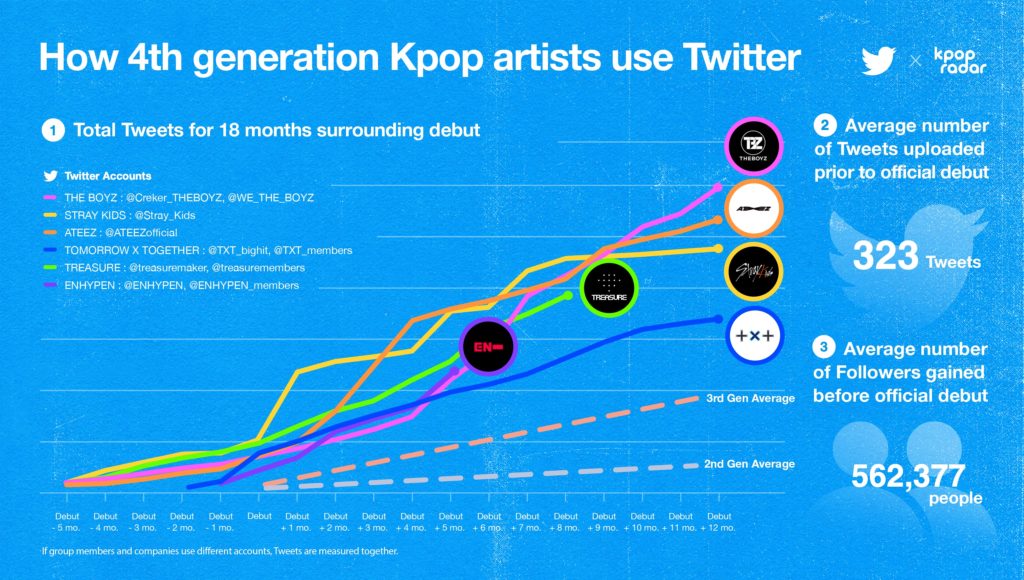 Meanwhile, Fourth-generation artists, such as ATEEZ, THE BOYZ, ENHYPEN, Stray Kids, TOMORROW X TOGETHER, and TREASURE, communicated with their fans after opening their Twitter accounts, months ahead of their respective debuts. On average, fourth-generation artists tweeted an overwhelming amount before their debuts compared to second and third-generations, with each artist uploading an average of 323 tweets, and accumulating 562,377 followers even before debuting.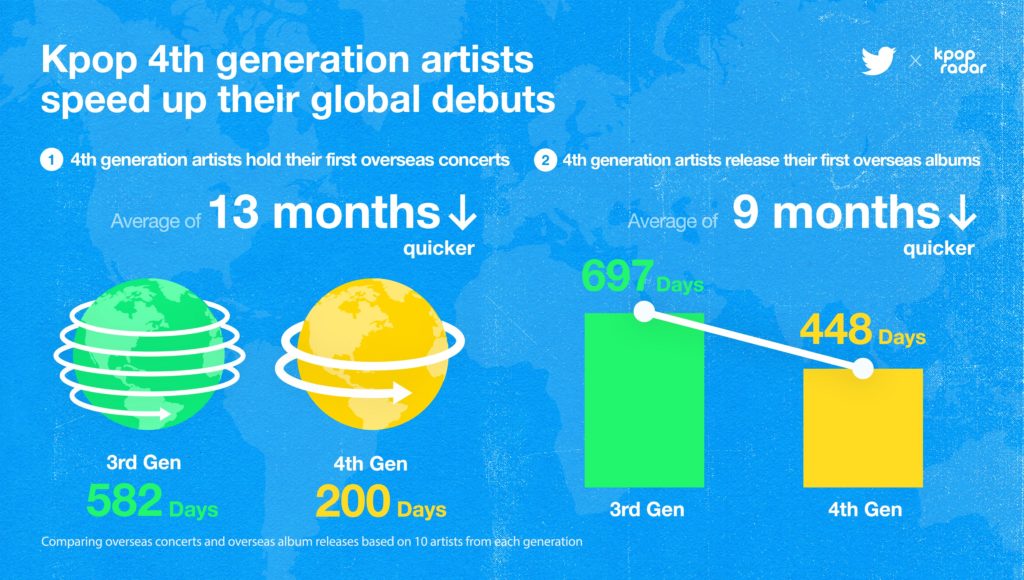 For YeonJeong Kim, head of global K-pop and K-Contents partnerships at Twitter, direct communication with global fans through Twitter has now become a success formula for K-pop artists, adding that such activity demonstrates that digital-based communication has a significant impact on growing their fandom.
"When BTS, a 3rd generation K-pop group, had intimate real-time conversations with its global ARMY, it set an example for the 4th generation to make this a feature of their engagement with fans. Fourth-generation artists like THE BOYZ, Stray Kids, ATEEZ, TOMORROW X TOGETHER, GIDLE, ITZY, TREASURE, ENHYPEN, and aespa, who have been using Twitter as an active communication channel even before their debut, are advancing to the global stages faster than the previous generations," Kim stated.