Manila, Philippines – Among the three main industries of e-commerce, FMCG, and QSR in the Philippines, e-commerce registered the largest ad spend with US$52m for Q3 of this year. This is according to the latest study by data, insights, and consulting company Kantar.
This was followed by QSR in the country with US$6.4m, and FMCG with US$5.3m.
Philippines brands' average monthly ad spend was found to be $15b.

In terms of what channels brands invest in the most, social display comes out on top with 44% of them spending their budgets on such, while desktop display came in second as a priority channel with 42%. A fraction of brands' ad expenditure was directed towards desktop video (6%), mobile video (6%), and lastly, mobile display (2%).

Meanwhile, social platform-wise, Facebook registered the lion's share of overall ad spend by Filipino brands with US$616.1m. with Instagram as the second most popular platform with US$135.2m This was followed by Youtube (US$98m), and Twitter (US$9.9m). The study also showed the platforms that garnered the biggest impressions among audiences. Facebook still topped the ranks with 134.8 billion, followed by Instagram (40.5 billion), Youtube (14 billion), and Twitter (5.3 billion).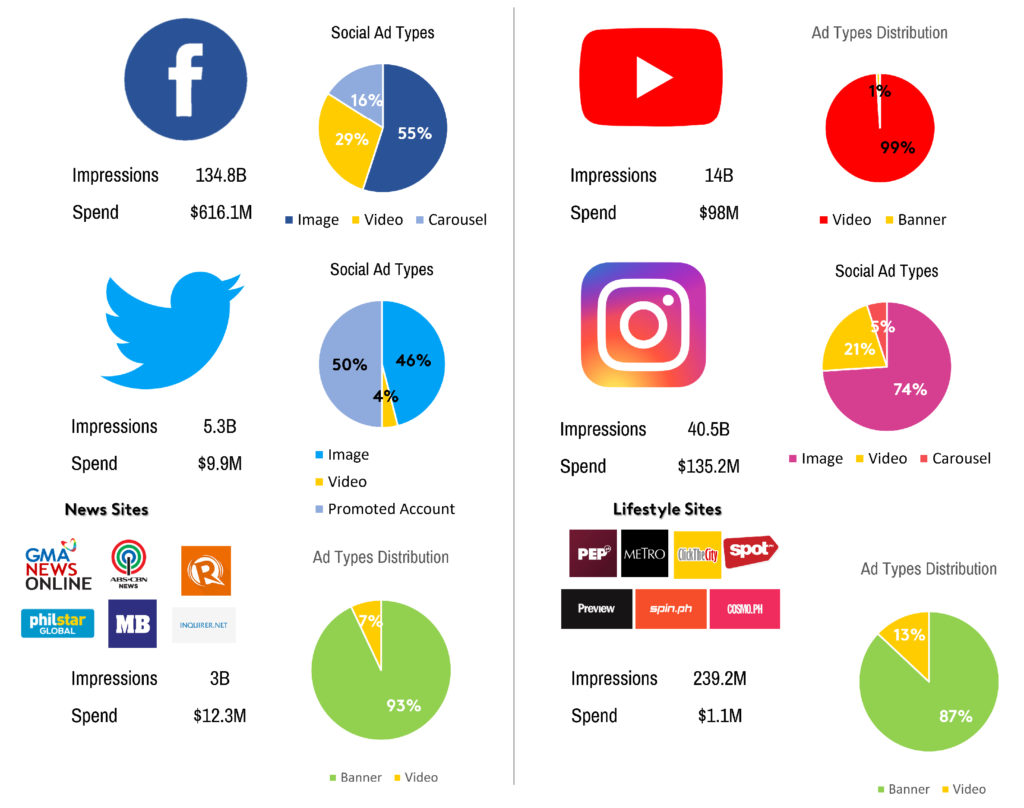 The same study also revealed the ad spending and impressions of the leading news and lifestyle sites in the Philippines. News sites, such as GMA News Online, ABS-CBN News, Rappler, and Philstar, as well as Manila Bulletin, and Inquirer, have recorded US$12.3m ad spend and three billion impressions for the period, while lifestyle sites, namely PEP, Metro, ClickTheCity, Spot, and Preview, as well as Spin, and Cosmo, clocked in a total of US$1.1m ad spend for the quarter and with 239.2 million impressions overall.
Kantar's current Digital Advertising Intelligence was conducted during the period of July to September 2021.