Hong Kong – Uber Eats' famous campaign, 'Tonight, I'll Be Eating', has just been debuted to the Hong Kong audience. This follows the latest installment that was recently released in Australia by Special Group, the brains behind the campaign, which features famous talent judge and critic Simon Cowell and Australia's iconic household entertainment group, The Wiggles.
The highly-awarded TIBE campaign first graced TV screens and social media platforms in 2017, which then was highly focused on the Australian audience featuring stars hailing from Australia. A big part of the campaign's traction among viewers is its use of sarcasm and humor, basing the narrative on the featured famous star's well-known quirk and characteristic. Some of the widely-known personalities that have already appeared on the campaign were British singer Boy George, actress Naomi Watts, and professional rugby league footballer Beau Ryan. Some of the most recent are comedian Leslie Jones and hockey legends Patrick Roy and Mario Tremblay. 
Still showcasing that trademark charm and humor, the debut in Hong Kong will be taking a different turn, where the campaign has been developed to spread the advocacy of loving and supporting local businesses. It has been named 'Make Local Famous' and was developed by Special Group Australia in partnership with creative group Uth Hong Kong.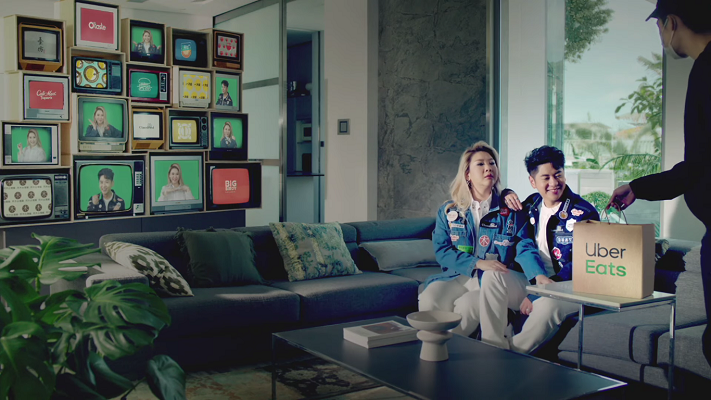 The ad features the country's most loveable and dynamic duo, singers Joyce Cheng and Alfred Hui. Set in a lavish and stylish home, Joyce and Alfred are donning denim jackets covered in the logos of many local favorites. In the commercial, Joyce playfully irons patches of logos from some of their favorite local shops they will be ordering from. Towards the end of the scene, the duo is seen promoting many local restaurants and their food with an entire wall of televisions sitting behind them, while Alfred is seen in a classic Mary Poppins moment pulling out dishes after dishes of food out of an Uber Eats paper bag.
Aside from the focus on local businesses, the Hong Kong installment is also flipping the traditional celebrity endorsement model on its head by picking the said duo. The 'Make Local Famous' campaign will see Joyce and Alfred advocate for the thousands of small and medium restaurants on Uber Eats. The campaign will also be providing a wide number of restaurant partners with ready-to-use content for them to repurpose on their owned channels.
Elisa Janiec, general manager of Uber Eats Hong Kong, said that the campaign genuinely speaks to their culture where food is a huge part of their cultural distinctiveness, with the "collision of West and East, old and new, hawker street stalls and Michelin-starred restaurants."
"It's lively, creative, social, and deeply ingrained into the fabric of the city. There's no better way to pay homage to this than to hero local restaurants and their food. Hong Kong is built around great food, and this campaign is all about celebrating that," said Janiec.
Ally Doube, APAC head of brand strategy & social at Uber Eats, commented, "Across APAC, we are passionate about unlocking local consumer insights to bring to life in all of our marketing, whether through brand campaigns or social ads. We are blessed with having the 'Tonight, I'll Be Eating' platform at our hands, one of the most award-winning campaigns, as our creative hook. The team in Hong Kong has done an amazing job pairing it with the strongest local insight to bring to life a magical and compelling campaign."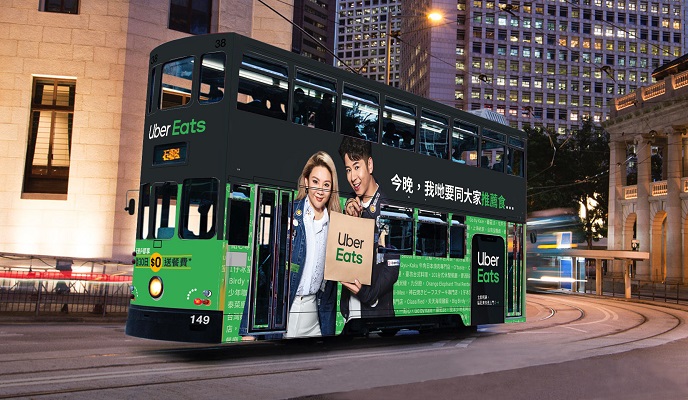 Meanwhile, Max McKeon, Special Group Australia's creative director, added, "Introducing the 'Tonight, I'll Be Eating' brand platform in Hong Kong is in itself incredibly exciting, but to do so with Uber Eats offering up one of their biggest brand assets – celebrity – to all the local restaurants in the region makes this an especially unique way to celebrate Hong Kong culture."
Aside from Hong Kong, the TIBE campaign has also been launched in Asian markets Japan and Taiwan. In September last year, Uber Eats and Special Group saw one of its biggest celebrity partnerships when it featured Sci-Fi icons, Star Wars' Mark Hamill, and Star Trek's Patrick Stewart for the campaign's debut in the US and Canada. The ad took audiences by storm due to the spot igniting each of the franchises' fans' cultural debate of which is the better franchise.
The integrated campaign in Hong Kong will air across TV, social, OOH, digital, and through restaurant partners.