Kuala Lumpur, Malaysia – It has become undeniable in recent times that most people have shifted their work setup from a physical workspace in the office to work-from-home (WFH). And while many people enjoyed it at first, it became evident that the majority of industries locally and globally are feeling the brunt of WFH, now being more than a norm and disrupting daily lives.
Such a status quo of the WFH sector has pushed the International Advertising Association (IAA) Malaysia to launch a new campaign in the form of a public service announcement explaining three pointers to consider about the state of the WFH setup, and spreading awareness about the toll the WFH setup does to numerous people in terms of the their overall being.
Led by IAA Malaysia Honorary Secretary, Prabha Nayar, a strategist and creative director, the three pointers are as follows: trigger on mental health, with most having no idea on what constitutes mental health; a dent on relationship, whether between partners, spouses, siblings, parents and children, even entire families, all from space and time encroachment; and a habit of and an expectation on working beyond the standard 9 to 5 or eight hours.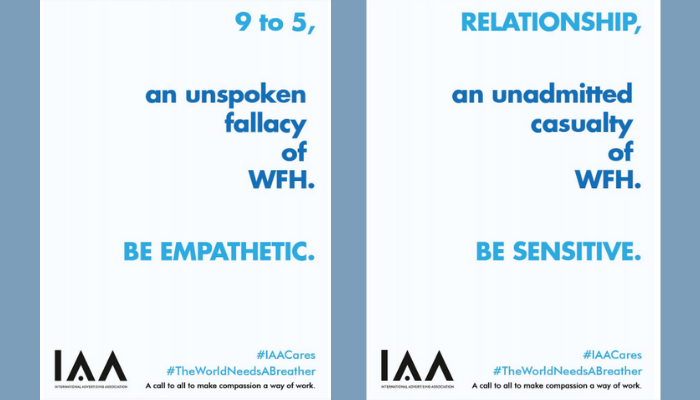 "With the pandemic playing on people's minds, IAA Malaysia took the thought process deeper, further and focussed on the work-from-home syndrome. The end line, 'A call to all to make compassion a way of work' cannot be more apt," Nayar stated.
The creative development can be used in various mediums, including, print, poster, out-of-home and animated GIFs in social media. 
John Chacko, president of IAA Malaysia cites previous global IAA projects to be the inspiration of their latest work, including those of IAA India's 'The World Needs A Breather' campaign, where it gained extensive editorial attention and social media traction.
"The 'Compassion' campaign is an unfunded non-commercial public service initiative by IAA Malaysia. It is a proactive outreach to highlight the human truths behind Work-from-Home. The campaign not only resonates in every global market, but it is also easily translated into a local language, while retaining the full concept and message," Chacko stated.