Singapore – Singtel launched its annual festive tribute today, an uplifting short film depicting the staunch determination of seniors who refuse to let COVID-19 upend their lives.
Titled "Seniors go digital too!", the film tells the stories of three seniors as they head back to "school" to pick up digital skills to help them stay connected and overcome the social distancing brought on by the pandemic.
The weekly attendance of seniors aunty Lilian, aunty Shirley, and uncle Andrew at Singtel's digital clinics under its Digital Silvers program are documented in the film. Through Singtel staff volunteers, the seniors learn the use of smart devices, to surf the internet, stay in touch with loved ones online, and make cashless payments. 
Held at Senior Activity Centres (SACs) across the country, the Digital Silvers initiative is designed to foster digital inclusion and help ease the sense of isolation that the elderly have experienced as COVID curtailed peoples' ability to socialize.
It's been a tough year for everyone, but the elderly are one of the more vulnerable groups affected by the pandemic. While most of us can easily access the plethora of online channels and apps for communication and entertainment, the older generation may not have the requisite digital skills to do so. This is what we're trying to address through our digitalization initiative

Lian Pek, Vice President of Group Strategic Communications and Brand, Singtel
In the film, viewers see the conclusion of the seniors' digital boot camp, with all of them finding a new sense of confidence and purpose: Aunty Lilian learns how to further her singing hobby and learn songs with the aid of apps on her device; Uncle Andrew learns how to use Zoom to stay in touch with friends and family, and Aunty Shirley becomes a "messaging expert", connecting with her children as well as learning to use the contact tracing app TraceTogether.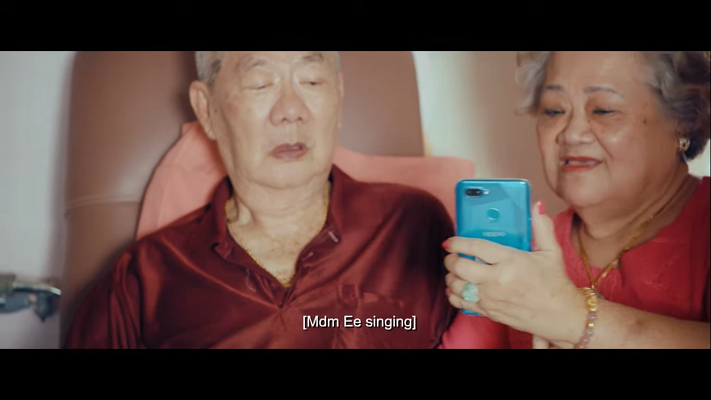 Singtel shared that moving forward, the Digital Silvers program will see S$1M worth of assistance go towards transforming SACs into digital hubs to help more than 10,000 seniors build confidence in using digital devices and platforms. This involves tech upgrades including Wi-Fi connections, Singtel TV content, and tablets to facilitate virtual engagement as well as digital clinics and one-to-one tutorials run by Singtel staff volunteers. 
In addition, Singtel has also set aside priority queues for seniors at stores and hotlines so that they can be given digital guidance and served more expediently.
Commenting on the program, Jeannie Ho, head of social enterprise NTUC Health's senior cluster network said, "We're very heartened to see many seniors from our Senior Activity Centres excitedly pick up new skills in the past month, as they realize that going digital is not as difficult as they imagined. This program and the digital workshops by Singtel have greatly empowered seniors to become so much more comfortable with using technology, enabling them to remain connected with their friends and loved ones amid the pandemic and especially during the festive season."
Lian Pek added, "Even before COVID-19 and the pivot to online channels and tools, digitalization was already happening at breakneck pace, and for the elderly left on the wrong side of the digital divide, this can be very overwhelming. We believe that seniors can benefit from the digital revolution and that the process of picking up tech-related skills, no matter how basic, can also go a long way in helping their active aging."
The short film is the final film in Singtel's year-long brand campaign encouraging Singaporeans to keep their spirits up in the current climate through the feature of the lives of ordinary folks. This includes "This Is The Year", Singtel's annual National Day film which paid tribute to the Majulah spirit, and "Keeping The Spirit Of Hari Raya Alive" which documented how the Malay Community kept the spirit of Ramadan alive during the circuit breaker period.
The six-minute film will air on Singtel TV and on various social media channels from 3 to 25 December 2020.