The digital marketing landscape is highly competitive and rapidly growing more challenging by the day. The deprecation of third-party cookies and increasingly strict privacy regulations have posed significant challenges for brands trying to make an impact in marketing. Now, brands are looking to first-party data to give them what third-party data never could — sustainable, robust and privacy-compliant results.
At the recent MARKETECH APAC's What's NEXT 2023: Marketing in Asia Pacific conference, Matt Hallett, Head of Product Solutions at Amperity, and Teresa Sperti, Founder and Director of Arktic Fox, led a panel discussion, addressing the challenges that marketers are facing in today's landscape and how they can best navigate them. Here are their insights.
The challenges: Why your marketing isn't measuring up
What's holding APAC marketers back from making time for measurement despite the critical need for data-driven marketing? According to Sperti, it's three things.
"Teams are stretched thin and lack the bandwidth to effectively invest the appropriate time and effort in measuring performance. They're trying to balance short-term and long-term needs of the business. And trying to determine how to optimise performance or adapt strategy," she says.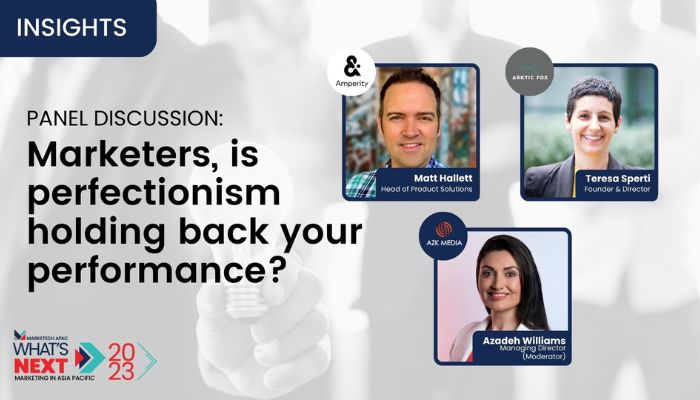 The second challenge tends to crop up when it's time to actually measure. Sperti argues that when provided with mountains of data, marketers aren't entirely sure what they should be measuring. "Marketers often lack clarity around deciphering the most appropriate measurement frameworks to utilise to demonstrate value," she says.
"That's largely because each channel, particularly from a digital point of view, provides a plethora of metrics to measure performance. It can be difficult to determine what the most important metrics are — this can create paralysis in marketers."
The third challenge, Sperti points out, is the skills gap. In Arktic Fox's recent research, noted in its annual Arktic Fox Digital and Marketing In Focus Report, half of leaders say customer data strategy and better utilisation of first-party data is a key priority. In fact, 59% say they are still trying to embed a more data-driven approach to marketing, and half of respondents (55%) say building a customer data strategy and better utilising first-party data is a top priority. 
The rise of digital
At Amperity, Hallett shares that there's a strong focus on helping brands unify customer data across disparate touchpoints. This empowers them to drive better experiences for customers at any time but especially during a time of change.
After working with a plethora of world-leading brands, he says the most successful amongst them have the right people at the top who understand measurement and why it is important. "Knowing what to measure ultimately starts with the people, strategy and the boldness to keep measurement as a number one priority," he says.
With the rise of digital, measurement is especially critical, Sperti adds. "The rise of digital has created more complexity as much as it's created more clarity from a measurement point of view because we have so much data at our fingertips now," she says.
"Whilst the issues around measurement have intensified given the challenges of today, they've always been around. Historically, we haven't been as accountable as we've needed to be around measurement and performance as an industry."
Hallett agrees, saying, "Measurement issues aren't a new problem. It's just that tightening privacy regulations and cookie deprecation are adding more pressure to the space."
Navigating a new privacy-first marketing landscape
Significant change is looming on the privacy regulatory front, and it appears that leveraging third-party cookies may no longer be an option after this year. Despite these shifts, in the Arktic Fox Digital and Marketing In Focus Report, when asked about the key priorities leaders have in the data and analytics space across the next 12–18 months, less than one in four (23%) suggested that a focus on improving their compliance with data privacy was a priority.
Meanwhile, less than half (41%) of brands indicate they have their house in order when it comes to privacy and consent, suggesting many brands will be caught off-guard by the magnitude of change that will bear down on the industry. Concerningly, only 11% of businesses from the study say they have a 'clear plan and path' they are implementing when it comes to evolving and adapting to changes in privacy and consent.
This finding suggests that leaders may not fully grasp the extent of the changes that will occur and the urgency of preparing for them.
With Australia tightening its privacy laws, Sperti says it's imperative for brands to rethink how they are going to leverage that data and discover what, if any, gaps they have in their data sets. 
"Marketers are going to need to adapt their measurement approaches accordingly to ensure they have a reliable data set from which to form and make decisions," she points out. "It's going to be a challenging transition off the back of our current market skills gap for those that are trying to build maturity and capability around data, to then have to tackle these really big challenges around measurement brought on by privacy and third-party cookie deprecation."
Hallett agrees completely, but also admits that there's a silver lining to all of this change — it's making an even stronger case for a robust first-party data strategy. With third-party cookie deprecation, brands are trying to leverage first-party data in new and exciting ways," he says. 
"My day in and day out is essentially spent helping customers build the connectors to make sure that first-party data can be leveraged in a secure, safe privacy-compliant way."
Embrace imperfection to drive marketing results
As businesses continue to navigate the dynamic digital marketing landscape, the pressure to deliver results has only intensified. In a world where success is often measured in clicks, likes and views, it's essential to understand the different types of metrics that exist and how to use them effectively.
The best way to do this, Hallett says, is to maintain a culture of fast iteration and celebrate failure as much as success. "Because this is a period of such intense change, you have to forget your pride and be willing to walk away from a campaign if it isn't working," he says.
"Brands are feeling the pressure. Customers can go to a different brand or a different retailer with the click of a button. Everyone is feeling the pressures of Amazon. To thrive, it's important to make sure that you're out there, testing and learning as quickly as possible."
Sperti agrees, saying the celebration of failure is vital. At the same time, she says, it's just as important to start being comfortable with imperfection. "Decades back, marketers would work on a big TV ad, and they'd be really focused on driving that big, broad awareness – the kind that requires a lot of precision and perfection," she says.
"Today, we need to start getting really comfortable knowing that our measurement frameworks aren't perfect from the get-go. Often perfectionism stops us. We won't start measuring until we have the 'Rolls Royce' of performance measurement frameworks, which means we never start. And when we never start, we fail to learn and evolve from a marketing point of view. What we don't optimise, we don't improve."
Today's opportunity is paved in first-party data
Ultimately, this new digital landscape demands a new journey — one organisations and brands must navigate together to find their footing as the foundation built upon shady privacy practices and third-party cookies begins to crumble away.
In a privacy-first world, all roads lead to first-party data. And it's time for brands to run, not walk, towards getting their house in order. Brands who make the change to leveraging first-party data see net-positive outcomes not just in match rates, efficiencies, time and security but also in revenue.
The brands that say these challenges are tomorrow's problems are missing out on the opportunity available to them today.