Hong Kong – Online sales festivals are known for encouraging users to spend more across various e-commerce platforms. But for this time, classifieds platform Carousell did the opposite: inviting Hong Kongers to sell their underutilized items and earn some spare cash.
The campaign, which will roll out for a month from 12 November to 9 December, takes visual inspiration from the ubiquitous Sau Mai Lo, a local term for a rag-and-bone man, to remind everyone that they already have a 'Sau Mai Lo' in the palm of their hands anytime, and can easily list their items and earn back some spare cash.
"They can channel whatever remorse they may feel about overconsumption into selling, and create more shared possibilities where everyone wins," said Kevin Huang, managing director at Carousell Hong Kong in a statement to MARKETECH APAC.
Huang also told MARKETECH APAC that the local campaign launch is timely with the upcoming Municipal Solid Waste (MSW) charging scheme in Hong Kong, adding that they hope to encourage more conversations about mindful spending and a culture where buying secondhand is the first choice.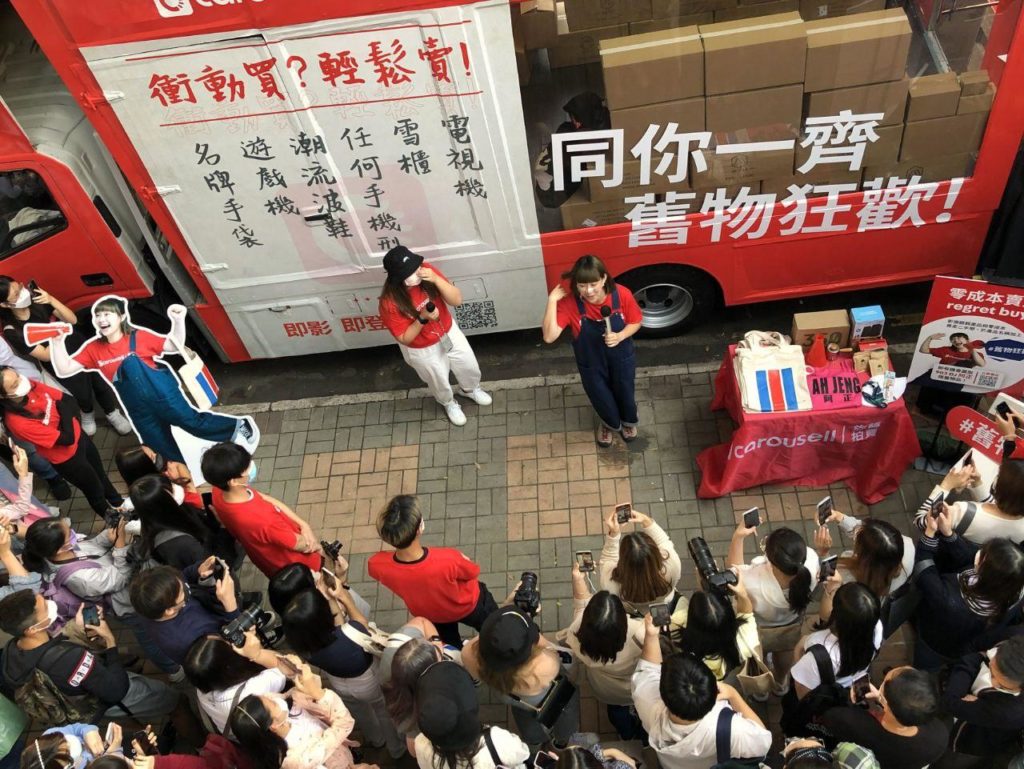 "11.11 is an important date to most e-commerce sites, but as a classifieds marketplace whose vision is to make secondhand the first choice, we wanted to continue to drive the key message about sustainability and reducing overconsumption. We have seen how buying and selling second hand has helped everyday Hong Kongers to make extra cash and reduce waste at the same time," he stated.
Huang further added, "In addition, acceptance of preloved products are becoming increasingly accepted in Hong Kong, and we see this as a continuing trend as we become more conscious of becoming more environmentally friendly."
As part of the local campaign, Carousell has also launched a three-day onsite activation at Mong Kok, Tsim Sha Tsui and Causeway Bay featuring 903 DJ Bonnie Wong (Ah Jeng) and 70 micro influencers.
Passersby can meet and take photos with Ah Jeng, and take part in activities to win a limited edition Samuel Ashley tote bag. To encourage more people to list their items, users with the highest number of listings stand a chance to win autographed gifts from Ah Jeng, including her T-shirt from "be ON game", Nintendo Switch Controllers, speakers and coffee from Ah Jeng Coffee Club.
"We have seen good results so far in the first weekend. Our teaser video featuring Ah Jeng had over 15,600 views on Instagram, and Ah Jeng's two Instagram posts had over 23,000 likes," Huang noted.
The campaign has also rolled out in Singapore, in which according to Cassandra Leong, head of regional marketing at Carousell, had actually materialized last year when they 'took to the streets to boycott 11/11'. She added that for this year, while other brands were busy shouting about their 11/11 sales last week, they reminded their users that they can consume sustainably, even while shopping for 11/11 sales.
"We understand buyer's remorse deeply, and we're reminding users that we'll be here for them long after the flash one-day sales, not just for the lowest prices and deals all year around, but we're also here for them to earn their money back from purchases or any decisions they may regret," Leong added.
The Singapore rollout of the Carousell campaign was made possible by 72andSunny Singapore, to whom they appointed as creative partner during March this year.
Daniel Ko, creative director at 72andSunny Singapore, commented, "As a self-confessed chronic shopaholic, I must admit that this was inspired by what people like me need – I'll definitely be turning some of my remorse into Carousell listings."