Esports is growing exponentially and on a global scale. According to a report by Newzoo, in the Asia-Pacific alone, the revenue within the gaming market has reached US$84.3B in 2020, making the region the largest market in the world.
In the Philippines, the number of games has now reached 43 million, and one esports platform in the country, KALARO, is on the mission to be at the forefront of the esports industry in the country and engage these players – and more.
Launched in October 2020 for its close-beta testing, KALARO was launched by The-AsiaGroup.com Inc. as a fully integrated end-to-end esports digital platform. The application includes features like tournament management, one-on-one challenges, and team competitions as well as coaching, and buy-ins, among others.
Almost one year after, we touched base with its Founder & CEO Jun D. Lasco to get to know how much it has grown since its entry into the industry – the platform itself and its vision and mission – and ultimately, after delta and beta testing for the period, finally, the launch of its first public version 1.0.
KALARO, the esports super app by the Filipino for the Filipino gamers
Before getting into KALARO's sophistication as a tech platform, KALARO first and foremost has a mission at its heart, and that is to fulfill the needs of both esports enthusiasts and professionals in the country.
Jun turns to a study similarly by Newzoo wherein 100,000 gamers across the globe were surveyed and discovered the three main motivations behind getting into esports: to unwind and relax, to engage in some form of competition, and interestingly, the social aspect of the game.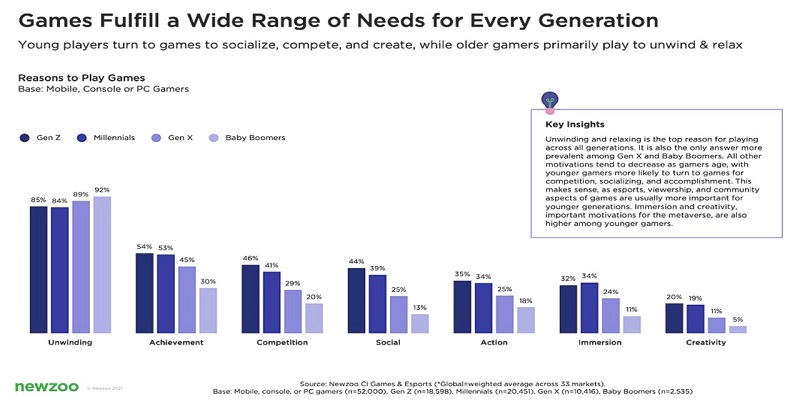 "More than providing a digital platform, one of our core missions and advocacies is being actively part in helping the youth in their mental health issues…and hopefully, KALARO will be one of the major platforms, social platforms, where they can engage socially, and compete, and be able to [have a sense of achievement], and unwind and have fun," said Jun in the MARKETECH Spotlight interview.
Today, KALARO is an esports super app with online tournament management integrated into its own video hub, brand integration, and social networking capabilities and with its very own e-wallet.
KALARO is the Filipino term for playmate, and true to its origins, the platform carries the mission of bringing out the world-class talent in every Filipino stakeholder in the industry which includes the caster, gamer or player, team, the tournament organizer, and brand-product creator, for them to discover and be discovered by others.
"And again, we'd like to showcase KALARO as a world-class product and a product that all the stakeholders in the industry can really benefit from," said Jun.
Releasing KALARO's public version 1.0
So after a year since it was piloted, we asked, is KALARO now ready to launch its public version 1.0?
Jun answers a firm yes.
After beta- and delta- testing since October, and with now more than 7,800 gamers on the platform doing it on a nationwide scale, KALARO is ready for the next stage, officially launching its public version this September 2021 to start its journey towards its first one million users.
"Yes, definitely, we're ready to launch version 1.0. This is the first public release of version 1.0. of KALARO. [We've been] fine-tuning the application [since] October last year [up until] end of August [this year]. And we are now ready to package version 1.0 and release it starting September 18," revealed Jun.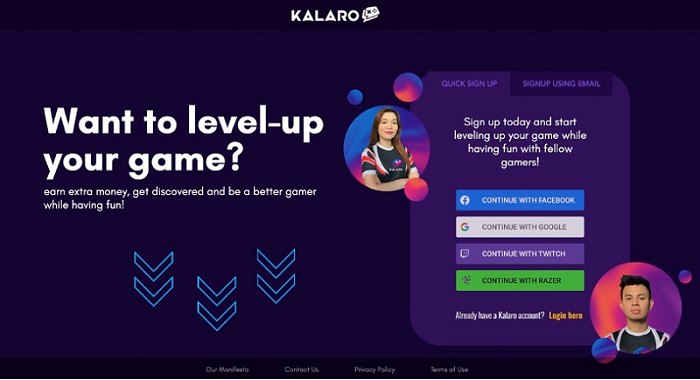 Jun said that the goal has always been about bringing a world-class app with a solid product-market-fit, which is why it took the company almost a year before it launched its public version.
Launching KALARO in October 2020 was far from an easy feat, where Jun revealed the challenges they had to go through before they launched the beta version in the middle of the pandemic.
"The beta launch is very significant, because it was really challenging, working together in a virtual environment," shared Jun.
Right off the bat, the predicament that the KALARO team had to face was not being together physically and communicating while being from different parts of the country. Like the proverbial genius working in their garage, KALARO was developing and programming the platform in the night.
Soon, following the beta launch, KALARO had 750 gamers to close-beta-test the platform, and from their feedback, the real fine-tuning began. And now here one year after, KALARO is growing from strength to strength.
After the public version is launched this September, Jun reveals, "We will have a very aggressive set of activities and campaigns for the last quarter of this year, so that the market [of almost] 50 million gamers and our fans would realize the benefits and the value that make KALARO really enjoyable."
The mission and vision of KALARO
One year after its official foray into the esports scene, we touched base on how KALARO sees its role in the lives of gamers and Filipinos.
At its core, KALARO was built to give every gamer an equal opportunity to learn, be discovered, and gain mastery, and most of all, to have fun and to also present opportunities to earn a living. But as a super app, KALARO isn't now merely attending to the hunger for esports action but has moved to become so much more for its users.
Jun summarizes KALARO's mission in the three major areas: financial wellness, mental health, and most of all, national pride.
Jun shared that the goal is to develop a platform that would serve gamers' financial wellness because as Jun puts it when someone becomes a member of KALARO, the platform would want to provide a facility and features that will help people earn extra money.
"That's why we have our own e-wallet and are partnering with UnionBank [of the Philippines], and so on. Financial wellness is very important," said Jun.
With esports and social platforms cited as beneficial channels to manage mental health, this has become one of KALARO's main advocacies. Jun says KALARO is like a Facebook for gamers
"KALARO being like the Facebook for gamers will allow gamers to really socialize, interact, [and] enjoy freedom in the games that they love," said Jun.
Above all, as a team in a country where there aren't yet many tech innovations, putting the Philippines on the map will always be a mission. In fact, in April 2021, KALARO has begun to see its hard work and talent pay off, being named as one of the top 5 esports startups in Asia in the Esports X Business Asia Summit (EXB Asia Summit), held in Singapore.
KALARO represented the Philippines among a sea of companies from top tech innovator countries Hong Kong, Singapore, South Korea, and the United States. In addition to this, KALARO has also successfully secured a partnership with multinational technology company for gaming, Razer, in June 2021.
"As they say, when you create a product, or when you create a service, there has to be a deep meaning as to why you're actually building it. And again, from October last year, we have received lots of feedback and lots of suggestions, and we adapted the product of KALARO to be able to really connect to the market, and [to meet] the needs and aspirations of the gamer," said Jun.
What's next for KALARO?
KALARO's growth trajectory is obviously on a promising level, and so beyond the launch of the public version, begs the question, what else is on KALARO's future plans?
As an end-to-end esports platform, KALARO doesn't only answer to gamers, taking a whole lot of other stakeholders within the community as the platform's priority. Aside from the gamers, KALARO caters to streamers, casters, team managers and owners, league and tournament operators, and corporate brands.
"Since KALARO is a super app, by design, each of these stakeholders has a special role and participation inside KALARO," said Jun.
He further shares that building an all-in-one platform has always been the objective especially in the Philippines and even in Southeast Asia as a whole where the market isn't necessarily tech-savvy.
"You know, when we were conceptualizing KALARO, and we were going through the process of design thinking, focus group discussion, mind mapping, and so on, we really made sure that we will be able to build a holistic [and] an all-in-one solution for the esports industry. Especially here in Asia, or Southeast Asia, in particular, it could be very difficult for the stakeholders to be using say, five different applications just to be able to actively participate."
He adds, "And the major motivations for vendors and players to participate are all inside KALARO."
As a super app for esports, Jun shares the upcoming developments within the platform in line with its mission – and even more.
For one, the platform has partnered with one of the leading banks in the country, UnionBank, to boost KALARO's financial service offerings. More interestingly, Jun shared that on this front, it's not a distant possibility that there would be a Visa card for KALARO soon and even an insurance offering.
Still in line with its mission for financial inclusion, Jun also revealed that KALARO is looking into crypto- and blockchain-related features and services within the platform. Due to the growing interest of the younger generation in cryptocurrency, Jun says that KALARO is sure to leverage the power of cryptocurrency, where NFT and blockchain will be part of the roadmap.
In terms of the social aspect, KALARO will be exploring live video and voice calling features in order to heighten the experience of playing together.
"So imagine if a student or a young person in the Philippines can play with his dad, or kuya (brother) somewhere abroad, and they can interact live or play together and do other things," said Jun.
Other than the fact that KALARO is disrupting tech in the Philippines, what is truly inspiring and makes KALARO the platform to be is above all, its advocacies to the stakeholders, who are mostly the younger generation.
"We really want to give all the chances in the world for every Pinoy and level the playing field. Even if you are not in the country's major cities, we believe that there are huge hidden talents across the over 7,000 islands in the country," said Jun.
"When you join KALARO, you will have instant visibility even if you are 5,000 miles away from the nation's capital. KALARO will give you that online presence and opportunity to be seen and participate," added Jun.
Listen to the full conversation between MARKETECH APAC's Regional Editor Shaina Teope and KALARO's Founder & CEO Jun D. Lasco on Spotify: